Aminata, Sierra Leone 1993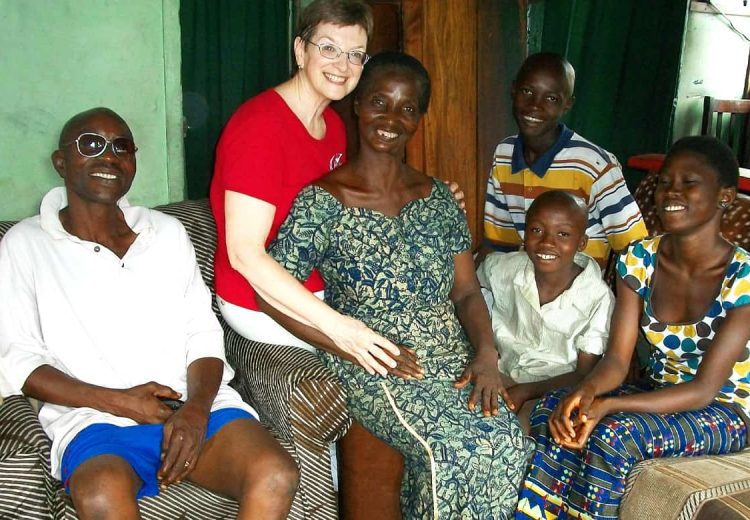 40 STORIES OF HEALING: Aminata
People found Aminata terrifying and yelled curses at her. They called the teenager The Witch of Freetown because of the large tumour that grew from her face. Ostracised by family and friends, Aminata was sick, penniless and alone.
The 19-year-old lost her seamstress business; her neighbours in Sierra Leon'es capital city were terrified of the tumour that grew from her jaw. Isolated and unwell, she struggled to make ends meet selling peeled oranges on the street.
Then one night, she dreamed about a big, ship painted gleaming-white that was coming to bring her healing. Months later the answer to Aminata's prayers arrived into the port of Freetown – the Mercy Ship Anastasis. It also brought her a life-long friend.
Aminata joined the hundreds seeking hope for their conditions. She stood patiently in line and spoke with difficulty around the tumour, now the size of a watermelon. That day changed her life. She heard the beautiful words, We can help you!
Crew member Sandy developed a special friendship with Aminata. It took months after her tumour was removed for Aminata's face to heal and she looked forward to Sandy's visits in the ward. Then Aminata received further surgery to have her jaw reconstructed. Sandy often visited when she wasn't on a shift at the reception desk.
The women were close in age and spent many hours together talking, laughing and becoming true friends. Through love and care, Aminata was being healed body, soul and spirit. After her surgery, her husband Felix returned to her, but many tears were shed when it was time for the Mercy Ship to leave port.
Ten years later, Sandy made a surprise visit to Sierra Leone to see Aminata in 2003. It was just like old times for the friends, and they still keep in touch.
'I last heard from Aminata when they called me in the middle of the night, early in 2018,' Sandy mentioned recently. 'She had also called over a year ago to let me know she was safe after the Ebola crisis.'
Sandy is convinced of three facts – friendships shape our lives; giving has its own reward, and it's possible to make a difference in a world of need.
Hawa was a young girl when a tumour began to grow in her mouth. It was not cancerous. But it was far from harmless.The fast-growing tumor was threatening Hawa's life.
Read More »
Make a difference in Africa together
Subscribe To E-opportunities
Receive here our monthly volunteer Mercy Ships opportunities email