LORETTE, PHILIPPINES 1999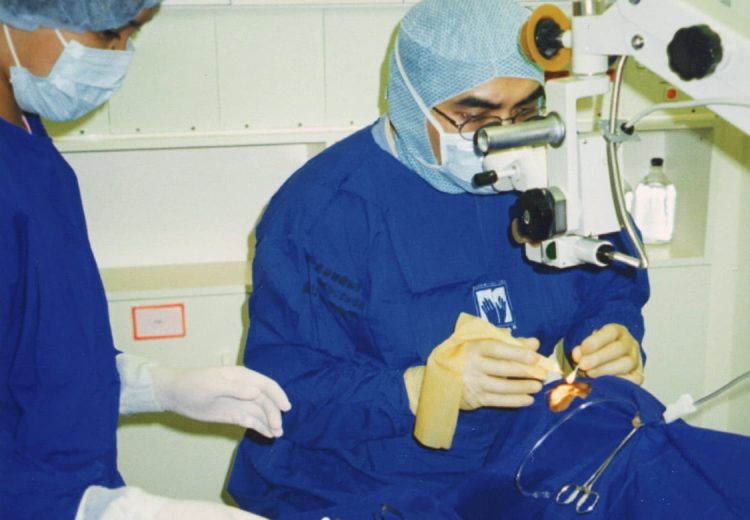 40 STORIES OF HEALING: Lorette
Prayer has always played a key role in the hope and healing that Mercy Ships offers. Sometimes God's answer to these prayers is something that surprises everyone.
Lorette knew she had glaucoma and the vision in her right eye was failing. She also knew she couldn't do anything about it . . . the necessary surgery was too expensive. When she heard of Island Mercy was arriving in the Filipino city near her in 2004, she signed up to have her eyes checked. Perhaps they could help her.
In the clinic set up ashore, eye-care professional Femi Oni quickly recognized that if Lorette didn't have surgery very soon, it would be too late. The operation was scheduled for three days later at a local hospital. Lorette was happy she could have her eye repaired, but deeply afraid of the surgery. Femi quietly explained another option; she could ask God to heal her.
Lorette hurried away from the clinic, looking for the nearest church. Letting herself in the unlocked door, she poured her heart out to God all evening, asking Him for healing (continues below)
The following morning she returned to the clinic. Something had happened during the night . . . her right eye could now focus! Femi examined her right eye again. 'I must have the wrong eye,' he thought. 'This eye is perfect, almost like a newborn baby.' He looked at the left eye . . . it was fine, too. Records showed it was the right eye that needed surgery, but now it was perfect. Maybe I have the wrong person! But the optical team identified her as the right patient and then confirmed that God had indeed touched her eye.
Pausing for a little while in the busy clinic, team members introduced her to Jesus, who befriends the poor and heals the sick. Lorette Cajadezo left the clinic with a new-found faith and a song in her heart, while the eye team cancelled the unnecessary surgery.
Whatever you may be facing today, don't leave God off your list of options. Instead, put Him at the top.
Larry Mast.
Hawa was a young girl when a tumour began to grow in her mouth. It was not cancerous. But it was far from harmless.The fast-growing tumor was threatening Hawa's life.
Read More »
Make a difference in Africa together
Subscribe To E-opportunities
Receive here our monthly volunteer Mercy Ships opportunities email