PATRICK, SIERRA LEONE 1992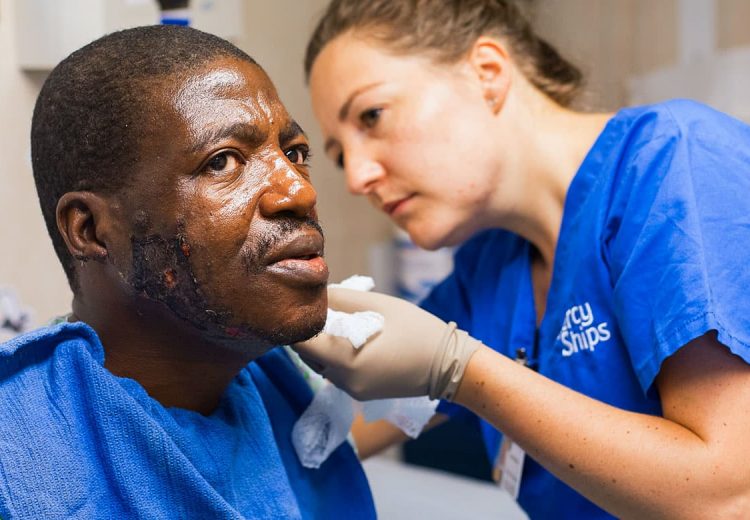 40 STORIES OF HEALING: Patrick
The enormous tumour began as a small lump on his chin when Patrick was a child. He endured ridicule and rejection as it increased in size until, as a young man, he made his way to the Mercy Ship in 1993. The growth was the largest the ship surgeons had operated on, up to that time. The surgical team removed the tumour and affected portions of his lower jaw. But as he required further surgery, Patrick disembarked with an appointment card in his hand ready for the ship's next visit.
Then civil war broke out in Sierra Leone. Rebels held the nation to ransom and caused destruction for ten long years.
When the Anastasis was finally able to return to Freetown in 2001, Patrick had married and was now the father of three children. He had story after story to tell of that horrific time and the way God had kept him and his family safe through nightmare conditions. Patrick received his follow up surgeries on board that completed his facial reconstruction.
In 2004 Patrick returned to the Mercy Ship, this time to work as a translator, helping other patients waiting for the surgery that would transform their lives. Christine, one of our former crew members reported earlier in 2018 year that Patrick is a pastor in Freetown. Christine said she heard him preach just a few months ago, and commented, 'These days Patrick puts his jaw to very good use!'
With 12 anaesthestists serving Guinea, West Africa's 13 million people, a partnership to help strengthen local anaesthesia capacity was a logical step for Mercy Ships.
Read More »
Make a difference in Africa together
Subscribe To E-opportunities
Receive here our monthly volunteer Mercy Ships opportunities email