Paul Pascal, Cameroon 2018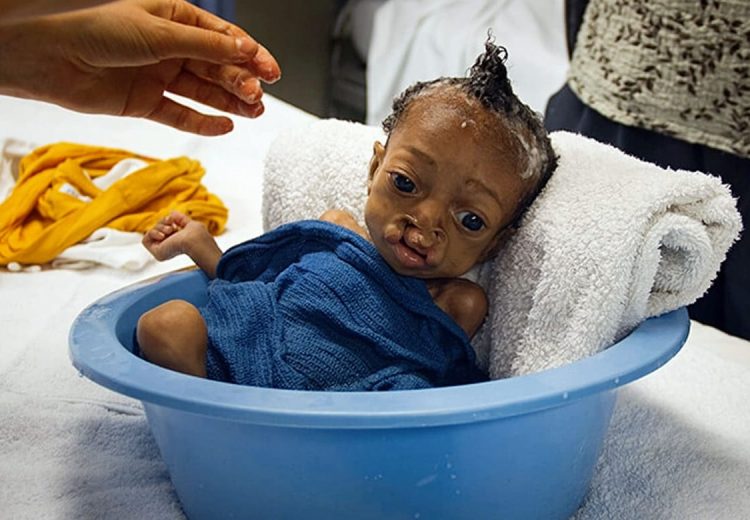 40 STORIES OF HEALING: Paul Pascal
Paul Pascal was born with a cleft lip that disfigured his face and a cleft palate that made it impossible to breastfeed properly. His mother watched helplessly as he grew thinner and weaker. People around her called him a monster.
His mother was scared. 'We thought he would die.' But her love knew no bounds as she rocked her tiny, hungry, crying baby through long nights. Then she heard that hope had arrived in port.
As soon as the Mercy Ships medical crew in Cameroon examined Paul Pascal they recognised his condition was critical. They rushed him and his Mum on board the Africa Mercy before the hospital officially opened, to monitor his temperature and feeding.
It was touch-and-go for a few days before the little boy began to turn the corner. Then once he was considered safe to leave the hospital, dietitians checked Paul Pascal regularly to track his growth, measure the size of his head, arms and legs, assess his feeding. They continued to encourage his Mum and suggest methods for her to help Paul Pascal have a healthy weight gain.
Gradually Paul began to change. His gaunt face grew round cheeks. His hair grew thick and healthy, and his listless eyes were now content as he grew stronger.
Only 3 months later and weighing 6.4 kg, Paul Pascal was strong enough to undergo the first surgery to restore his cleft lip. His Mum worked hard to help Paul Pascal gain catch-up weight and reach the normal height to weight ratio. In another five months, he was the size of an average 11-month-old and strong enough to have his cleft palate restored. The operation connected the muscles of his soft palate and closed the gap in the roof of his mouth, enabling him to eat and speak normally as he grows up.
Just a few weeks later in 2018, Paul Pascal's post-op check saw him tip the scales at over 9 kg! No one would recognise the emaciated baby they had first seen. Paul Pascal's journey to healing was complete and his future is changed forever.
Hawa was a young girl when a tumour began to grow in her mouth. It was not cancerous. But it was far from harmless.The fast-growing tumor was threatening Hawa's life.
Read More »
Make a difference in Africa together
Subscribe To E-opportunities
Receive here our monthly volunteer Mercy Ships opportunities email