REGINA, SIERRA LEONE 1993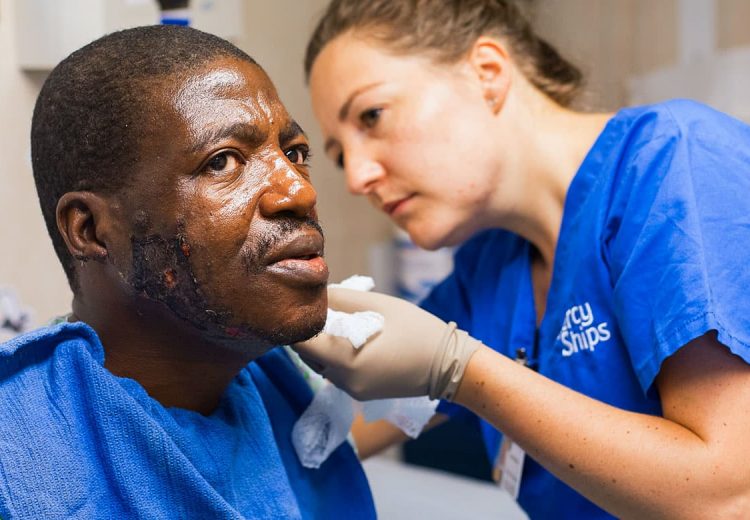 40 STORIES OF HEALING: Day 10
Like any new parents, Catherine and Augustine excitedly awaited the birth of their first child. But as Catherine's labour continued for a number of days, the family's apprehension grew. After four days of labour without medical care, the 18- year-old was exhausted, frightened and in terrible pain. Her family was unable to come up with the cost of a Caesarean section – six month's wages in Sierra Leone in 1993 (around NZ$170)
The teenager was left in the hospital hallway to labour until she and the baby gave up the battle. 'At the time, I was thinking I am going to die', Catherine recalls.
Mercy Ships anaesthetist Keith Thomson's schedule had been cancelled on board the Anastasis that day, so he visited the local hospital in Freetown, where the ship was docked.
When he saw Catherine's situation and discovered why she and her unborn baby were abandoned without help or pain relief, he immediately paid for her treatment. 'In Sierra Leone, that was the theme of the day,' explains Catherine. 'If you didn't have money, you didn't have access to treatment. We were all shocked when Keith offered to pay.'
A healthy Tina Regina was born, and so began a friendship between doctor and family that has spanned continents and 25 years. After the traumatic delivery, Dr Keith remained in contact with the family, even helping them to flee to Guinea during Sierra Leone's civil war… (more below)
In 2000, Dr Keith came to the aid of the family again, when Guinea expelled English-speaking refugees. Augustine was thrown into prison for five days. Dr Keith helped them find flights out of the country and arranged for a place to stay in Ghana.
'I really appreciate what Dr Keith did, and what he and his family are still doing, for my family,' shared Tina. 'Some other person might have saved my mum's life and lost communication, but he has helped us all these years.'
The Contehs were eventually recognised as refugees and immigrated to Australia.'My parents told me when I was growing up, You are a miracle – don't forget that', Tina explains.
The life-long story of mercy's reach came full circle for Tina in 2011, when she was 18 years old. She signed up to volunteer aboard the Mercy Ship herself, during a return field service to Sierra Leone. 'Put simply, it is thanks to Mercy Ships that both my mother and I are alive today', she said at the time. 'That alone makes me want to give something back.'
Hawa was a young girl when a tumour began to grow in her mouth. It was not cancerous. But it was far from harmless.The fast-growing tumor was threatening Hawa's life.
Read More »
Make a difference in Africa together
Subscribe To E-opportunities
Receive here our monthly volunteer Mercy Ships opportunities email