SCREENING NURSE FROM MT EDEN
Vivien served in one of the most challenging roles on board the Mercy Ship – the experienced paediatric nurse worked in the screening team. It is their job to triage the multiple thousands of hopeful, desperate people seeking medical help. For most, Mercy Ships is their last hope.
The screening team's days are long and extremely demanding. Their professionalism, maturity and faith is taxed to the limit as they must determine if a case is considered operable. If not, the person must be told – honestly, compassionately, eye to eye and with the greatest respect, that there is no help available. But for thousands every year, the beautiful words, "We can help you," are life-changing.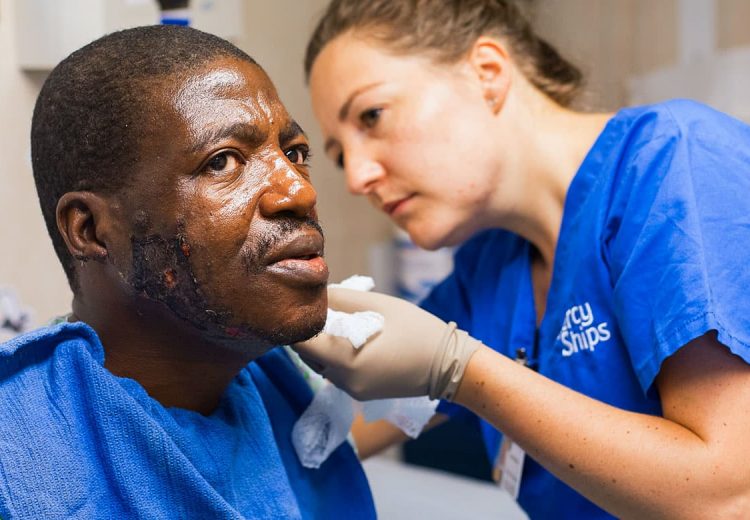 Off-roading for weeks at a time in Africa's interior, examining patients from pre-dawn to post-dusk by the light of a headlamp, and offering hope for healing to people who thought essential surgery was far beyond their reach; it's all in a day's work for Auckland nurse, Vivien Welch.
Vivien had no idea this would be the toughest job she would ever love when she signed up for her first volunteer assignment with Mercy Ships in 2010. During her fifth tour-of-duty in late 2019, Vivien was once again on the triage team, travelling into remote regions – this time in Senegal, West Africa. Their assignment: to assess people who usually have no access to essential operations. These would be provided without charge on board the charity's 16,000-tonne hospital ship docked for 10 months on Senegal's coast.
Travelling into the interior of the country and screening potential patients is one of the hardest jobs I've ever done,' reflects Vivien. 'Every day you are seeing so much need and we can't meet it all. Working in the wards on board the hospital ship we were just seeing the ones that Mercy Ships can help. But while 'screening' we see the real need of a country. It's really hard and confronting. Even our local translators were shocked at the level of health care needs in their own country.
'There were many heart-wrenching decisions to make almost every day. So many people need surgery. There are a lot that Mercy Ships could help, but we currently don't have surgical space to take them all. '
Mame Sy had no medical aspirations before coming on board the Africa Mercy in 2019, but the love that she experienced on board compelled her to return again and again.
Read More »
Make a difference in Africa together
Subscribe To E-opportunities
Receive here our monthly volunteer Mercy Ships opportunities email