2023 RETURN TO SIERRA LEONE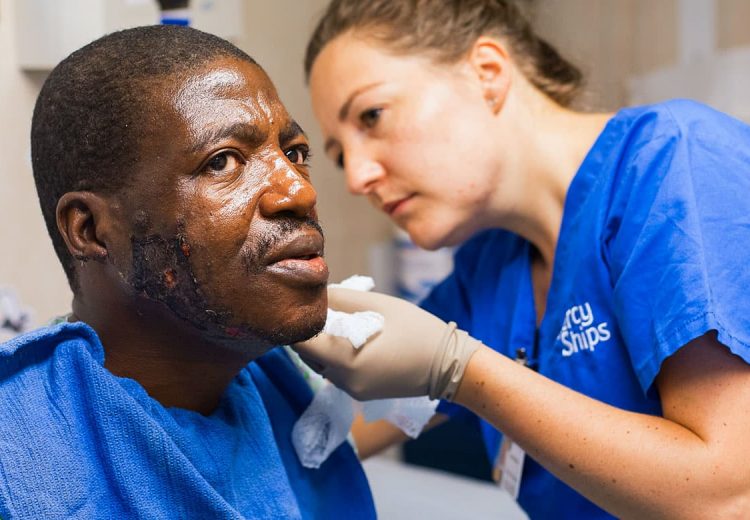 Mercy Ships has a long-lasting history reaching back more than 20 years with the West African nation of Sierra Leone. Next year, the organisation will add an exciting next chapter to this story. Upon invitation by the government of Sierra Leone, Mercy Ships is pleased to announce that the Global Mercy® will sail to serve in Sierra Leone in the end of summer 2023.
During the field service, Mercy Ships plans to operate its newest, purpose-built hospital ship in Freetown to provide safe surgical and dental care, as well as advanced medical training and mentoring on board. All Mercy Ships services are provided free of charge, thanks to a network of donors around the world and their support of the volunteer professionals giving their time and talents.
"Thank you, Mercy Ships, for your continuous humanitarian and medical support towards providing treatment to people with various medical conditions worldwide. This partnership agreement which was signed pre-covid includes a 10-month Global Mercy deployment for free surgical care in partnership with local institutions in Sierra Leone.  The hospital ship will serve as a platform for training our healthcare professionals to build capacity.  Programs will ensure that the positive impact of Mercy Ships will continue long after the ship leaves the shores of Sierra Leone. This partnership will support our vision to ensure a functional national health system delivering efficient, high-quality healthcare services that are accessible, equitable and affordable for all," stated H.E. President Julius Maada Bio.
This upcoming visit will be the sixth in Mercy Ships' history with Sierra Leone, with the most recent visit taking place in 2011.
"We are excited to confirm that we are planning a future return to Sierra Leone. This will be our sixth field service working alongside this nation. Now we can fully step into an important season of assessing existing needs and identifying how we can best support to deliver hope and healing to those in tremendous need of surgical care," said Gert van de Weerdhof, Mercy Ships Chief Executive Officer.
Why is the Global Mercy Serving in Sierra Leone?
The need in Sierra Leone is great, as is the potential of this nation. A rapidly growing country with a population of more than 8.6 million, Sierra Leone is positioned at 182 out of 189 countries in the Human Development Index, used by Mercy Ships to assess where its services are most needed. As of 2015, it was estimated that there were only 0.2 surgeons, anesthesiologists, and obstetricians per 100,000 people in Sierra Leone.
This means that while direct surgical care is urgently needed for many across the country, there's an even greater need: for trained and equipped medical professionals who can shift these statistics and lead lasting improvements to safe surgical access. On board the Global Mercy, which was designed from scratch to be both a world-class floating training center as well as a surgical ship with 6 operating rooms, both needs will be addressed.
Announcing a New Country Director for Sierra Leone
At the helm of this upcoming field service will be the newly appointed Country Director for Sierra Leone, Dr. Sandra Lako, who is uniquely well-suited for the role. Originally from the Netherlands, she was just 2 years old when she first encountered Mercy Ships. Dr. Lako lived on the first Mercy Ships vessel, the Anastasis, and attended the onboard Academy while her parents served as volunteers.
Sierra Leone has always been a place of special significance for her. It was where – as a high school student participating in an off-ship program – she first discovered her life's purpose.
"During one week we joined the medical team providing clinical services in a nearby village. During that time, there was a measles outbreak. Many of the children that came to the clinic were very sick. Us 'kids' held these children, mostly infants, and helped feed them. Sadly, some of the children died during that week. That made an impact on me. It's idealistic, but because of that experience, I decided I wanted to be a doctor to help children in Africa in the future."
In the decades since, Dr. Lako went on to earn her medical degree, gain work experience, and eventually rejoin Mercy Ships – this time, as a volunteer herself. She helped the organisation set up a general outpatient clinic in Sierra Leone. She has served Sierra Leone as a doctor for 17 years. In this new posting as Country Director, she'll use her hands-on experience and deep understanding of the country's healthcare system to bring change in a new way, together with African partners.
"This long-lasting partnership paves the way for Mercy Ships to continue to engage closely with the government of Sierra Leone and to strengthen our joint commitment to improving access to safe surgical care. A collaborative approach is much stronger," shared Dr. Sandra Lako, Country Director for Mercy Ships in Sierra Leone.
Help Bring a Lasting Impact
Operating two hospital ships means doubling the impact – but first, Mercy Ships must double its crew. From the hospital decks to the engine room, the bridge, the crew galley, and beyond, it takes all hands on deck to bring hope and healing. Interested in sharing your skills and being part of the next chapter? Learn more about how to partner with Mercy Ships, through giving or going, today
Mame Sy had no medical aspirations before coming on board the Africa Mercy in 2019, but the love that she experienced on board compelled her to return again and again.
Read More »
Make a difference in Africa together
Subscribe To E-opportunities
Receive here our monthly volunteer Mercy Ships opportunities email