THE REUNION - 30 yrs later
How one act of kindness changed everything
Catherine and Aly reunite after 3 decades
In the early morning sun, Aly stood on the gangway of the hospital ship Global Mercy in Freetown Sierra Leone, straining for a first glimpse of the approaching vehicle.  Aly had been waiting for three decades for this moment; holding a life-impacting event close to her heart, and never quite believing that she and Catherine would ever meet again.
Catherine had been on the brink of death, traversed continents, escaped civil war and weathered the twists and turns of life, yet the women had finally found each other.
"I call her sister, and she calls me sister," shares Catherine. 
Their first heart-breaking encounter took place in a hospital in Sierra Leone in 1993, where 18-year-old Catherine had been lying in obstructed labour for 4 days. Catherine and her husband, Augustine, had been counting down the days to meet their first baby, but events took a terrifying turn when their baby got stuck during delivery. Without the means to afford a Caesarean section surgery, Catherine was left with no option but to wait for nature to take its tragic course.
Sadly, Catherine's plight wasn't one of a kind. In Sierra Leone, as of 2019, 717 mothers die annually for every 100,000 live births. This is one of the highest rates of maternal mortality in the world, according to the WHO – 700 times more risk than in New Zealand.
Catherine felt helpless; as if all the strength was draining from her body. She was sure she was facing impending death: "I will lose my life. If nothing happens, I will lose my life. That kept on playing right in my heart, in my mind."
But she kept holding on to hope and faith.
Three generations and many lives have been changed forever by one act of kindness
An act of kindness from strangers
This is where Aly, a Kiwi nurse who was volunteering with Mercy Ships and visiting the hospital, first crossed Catherine's path. After hearing her cries of pain, Aly went to investigate. She was astounded at what she learned. Aly recalls, "With Catherine being in labour for four days, the nurse told me that she would die and the baby would die. It was communicated in a very matter-of-fact way, which shocked me – that this was going to be the outcome without any intervention. I'd never encountered anything like that. I didn't know what to do, so I thought, I'll pray for this woman and hand it over to God."
After Aly's prayer ended, fellow Mercy Ships volunteer anesthetist Dr Thomson, who was touring the hospital with Aly, joined her in the room. On hearing Catherine's unique story, he unexpectedly felt God's calling to personally pay for her surgery.
Catherine was quickly taken to the operating theatre for a Caesarean section.
After baby Regina's safe birth, Aly and another Mercy Ships volunteer, Gina, stayed in close contact with Catherine. They visited her in the Freetown hospital while she recovered; they made sure Catherine had food, and admired her newborn daughter.
"All she did was to pray for me, at that moment. She prayed for me," reflects Catherine.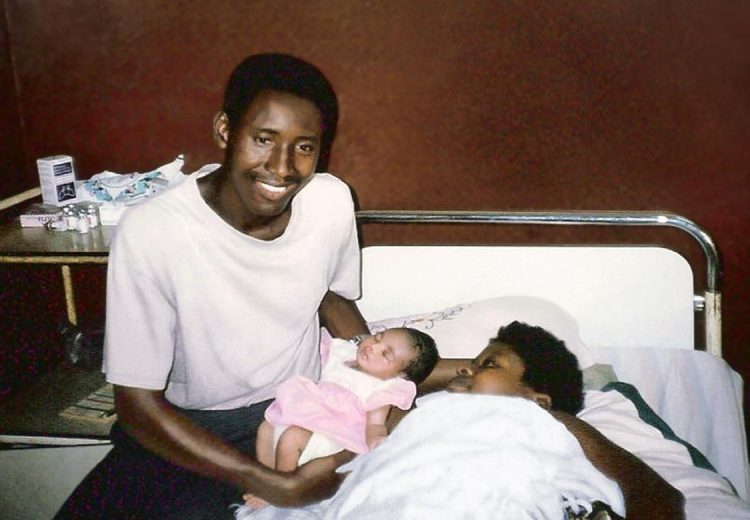 They had been strangers just days before, but Catherine and Aly quickly formed a bond that only forges through sharing a life-changing encounter.
Reconnecting After Years Apart
Sadly, their paths diverged when Aly returned to New Zealand. Catherine's family fled the civil war in Sierra Leone and eventually gained residence in Australia. But destiny had more in store for these two remarkable women who held each other close in their hearts despite the passing of time.
Fast forward 30 years, and Dr Thomson reunited Aly and Catherine online. They quickly grew close through numerous video chats, and devised an extraordinary plan: to meet and volunteer together aboard the Global Mercy, now in Sierra Leone.
"I valued and I'm grateful to God for that, because praying for someone, for me, is like a currency that you can buy anything with."
Catherine, with her daughter Regina and grandson Dembelie
Some 30 years later, on October 1, 2023, this hope finally became reality.
Their reunion was the first time Catherine and Aly had seen each other in person since the hospital in Freetown.
Aly is volunteering on board the Global Mercy during its 10-month field service in Sierra Leone. For Catherine, on board the hospital ship to volunteer in the dining room, the moment held an even deeper meaning: "I'm coming home to come and serve, not only Mercy Ships but my country."
And for Catherine, despite having experienced a life-changing encounter with Mercy Ships, it would also be her very first time stepping on board one of the hospital ships.
When she turned the corner to the dock and the hospital ship came into view, Catherine was stunned. Then, Aly's face came into focus, waiting on the dock to greet her. It was a moment she'd dreamed of for years . For both volunteers, the reunion brought a flood of joy – and old memories.
"To see her in person again, I couldn't believe it," said Catherine. "We just sobbed. We cried and cried."
During their time together, they thought fondly of Dr Thomson, who recently passed away. "This is his legacy in a way. This is a tribute to him in a lot of ways because his dream was for us to come together here, and he realised that before he passed away," shared Aly.
As they prepare to bring hope and healing to other Sierra Leoneans on the Global Mercy, Catherine reflected on the significance of the moment.
One act of kindness changed her own life immeasurably – and now, she hopes sharing their story will have a ripple effect of its own.
"One person will hear the story, and they will make a change," said Catherine. "I see it as the power of helping."
It was Aly's simple, spontaneous act of caring and kindness that saved not just one life, but two – and changed the trajectory of a family's future for good. Decades later, the ripple effects of that moment continue to play out in Catherine's life and beyond.
Join us to invest in the next generation of changemakers in Sierra Leone.
Mame Sy had no medical aspirations before coming on board the Africa Mercy in 2019, but the love that she experienced on board compelled her to return again and again.
Read More »
Make a difference in Africa together
Subscribe To E-opportunities
Receive here our monthly volunteer Mercy Ships opportunities email