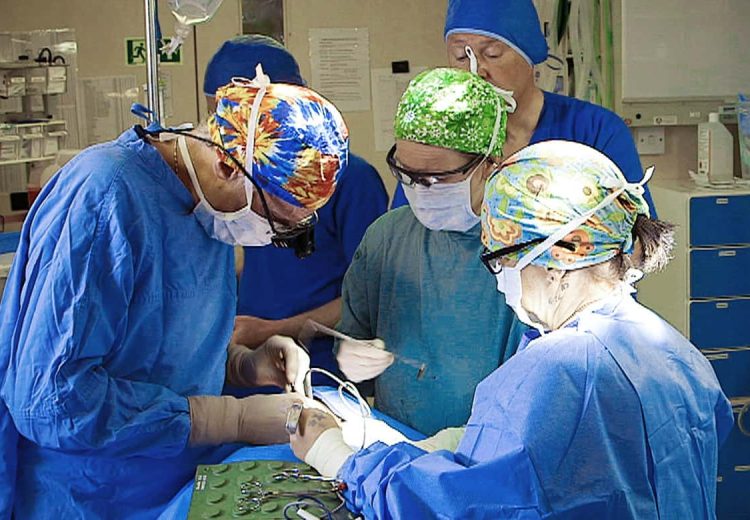 Despite the odds of finding Alya five years later in post-Ebola Guinea, his Kiwi surgeon searched for his patient. Dr Neil Thomson wanted to see the long-term impact of his surgery which removed the life-threatening yet benign tumour from the boy's throat years ago.
Alay's dad sat on a stool at the end of an empty hospital bed waiting for news of his son Alya, who has been in surgery for nearly three hours to remove a tumour from his small neck, in 2013.
Across the hallway of the hospital ship, Alya's Kiwi volunteer surgeon Dr Neil worked to finish the successful surgery. 'Incredible!' he declares. Alya's tumour had grown around the eight-year-old's windpipe. 'He was a few months away from suffocating from this.' In his short life, the tumour on Alya's neck since birth grew from the size of a twenty-cent piece to the size of a potato.
But after free surgery onboard the Mercy Ship only a crescent-shaped scar remained where the tumour used to be slowly squeezing the breath from the little boy.
Alya's dad's gaze fluttered between the nurse and the translator, who replayed the medic's message in his own language of Susu. 'Everything went well. He hasn't woken up yet, but he will soon.'
The relieved father smiled and announced to the other patients in the hospital ship's ward, 'My mind is free, my heart is happy!'
Another patient chimes in from a bed nearby, 'Let God bring these kinds of people every year in this country!' 'Amen!' he declares in Susu.
Hushed mumbles from the other patients and caregivers in the ward quickly turned into a celebration. 'May God help them to bring healing for other illnesses we have here,' wishes one woman. Soriba replies, 'Amen. May there be healing for all!'
Four days later, a squirmy Alya sits on his knees at the end of his hospital bed, pulling on his father's shirt. Ready to head home to his village, he is no longer the little boy who can't catch his breath. He is no longer exhausted from his hindered breathing.
'Without this opportunity, we didn't have the means for surgery,' Soriba confesses as he thinks about what the future could have been. Now I am happy!'
In 2018 the Mercy Ship returned to Guinea and Dr Neil Thomson made it a personal mission to search out Alya. When the team found Alya's village, Dr Neil recognised Alya's Dad in the crowd immediately. Following him home Dr Neil was reintroduced to the now 12-year-old, who had grown into a strong and healthy boy. 'He's completely restored,' declared Dr Neil. 'You can't even see the incision line from his operation! He is an intelligent and sensitive boy who had looked death in the face. '
Thanks to our sponsors and volunteers,  the free operation Alya received changed and transformed his life. Alya now has a very hopeful future.
Mame Sy had no medical aspirations before coming on board the Africa Mercy in 2019, but the love that she experienced on board compelled her to return again and again.
Read More »
Make a difference in Africa together
Subscribe To E-opportunities
Receive here our monthly volunteer Mercy Ships opportunities email