Prior to the purchase of the Anastasis, there had never been a civilian-owned hospital ship serving the marginalised trapped in poverty. A forerunner in every way, the Anastasis and her volunteer crew forged a path and created a faith-based model of service that has directly impacted more than 2.84 million people since Mercy Ships began in 1978.
Formerly the Victoria, the Anastasis was built in 1953 as an Italian passenger liner and served as the flagship of the Mercy Ships fleet from 1978 to 2007. During that time, the Anastasis contributed more than half of Mercy Ships' total output in terms of number of services, value and beneficiaries. An average of 350 crew from more than 30 nations lived and worked onboard.
Services Delivered by the Anastasis
Beginning with cataract surgery and developing a select variety of surgical specialties, the Anastasis performed more than 1 million services in her lifetime, at a total value today of over $278 million, with an estimated 1.2 million people directly benefiting from the medical services.
Behind every statistic is a person with a story just like yours. Read about some of the early Anastasis patients' stories here  
Between 1978 and 2007, the Anastasis crew
Performed more than 18,800 surgeries such as cleft lip and palate repair, cataract removal, straightening of crossed-eyes, orthopaedic surgeries and facial reconstruction.

Treated more than 88,600 people in village medical clinics.

Performed more then 137,000 dental treatments.

Coached over 4,000 local healthcare professionals who have in turn trained many others, ensuring that medical expertise is retained after the

ship's departure.

Taught more than 59,700 local people in basic healthcare.

Completed more than 540 construction and agriculture projects including schools, clinics, orphanages and water wells.
Ports Visited by the Anastasis
The Anastasis visited 275 total ports and conducted 66 field assignments in 23 nations in Central and South America, the Caribbean, the Baltic Coast, and Sub-Saharan Africa.
A 14-port tour of New Zealand in 1983 while the vessel was serving the Pacific Islands saw thousands of New Zealanders volunteer on board in the following years.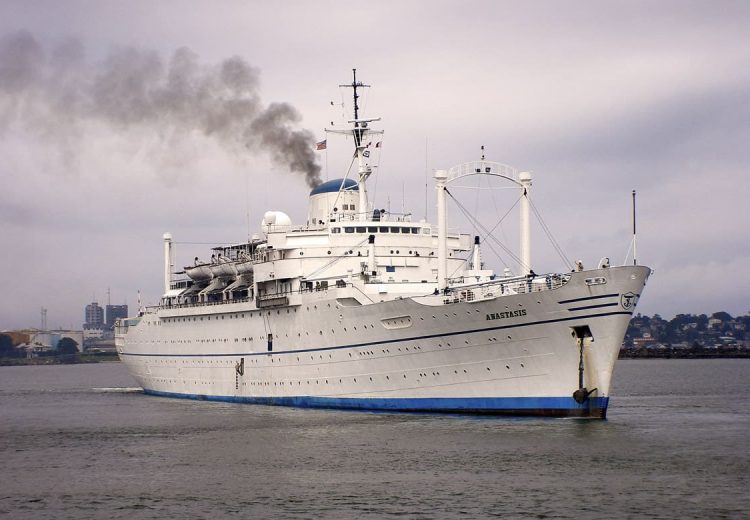 Anastasis, deployed 1978 - retired 2007
The Anastasis
carried a fleet of
over 20 vehicles for
onshore work.
An estimated 25,000
volunteer crew members
served on the Anastasis
The Anastasis visited
275 total ports and
conducted 66 field
assignments in
23 nations
Main Engines
2 Fiat 7,510 (8,050 BHP each)
Built by
1953 Trieste, Italy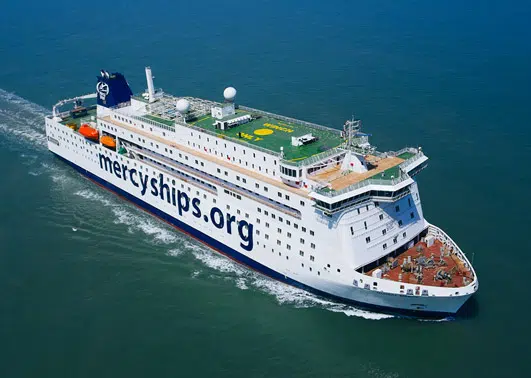 With more than 50 years of service ahead of it, this new ship will give a whole new generation the means to get involved with us!