History of the Caribbean Mercy
Formerly a Norwegian ferry (Polarlys), the Caribbean Mercy was acquired by Mercy Ships in 1994. In her 12-year service as a vessel of mercy, the Caribbean Mercy contributed more than 20% of Mercy Ships total output in terms of number of services, value and beneficiaries, serving primarily in Central America and the Caribbean basin. While in port, she hosted an average crew of 120 volunteers from more than 20 nations.
Services Delivered by the Caribbean
Crew onboard the Caribbean Mercy
offered more than 288,000 services, at a value of over US$88 million and with 348,800 people as direct beneficiaries.
• Performed more than 7,000 surgeries such as cataract removal, strabismus, dental and orthopaedic procedures.
• Treated more than 54,300 people in village medical clinics.
• Performed 18,200 dental treatments.
• Taught more than 1,500 local healthcare workers, who have in turn trained many others in basic healthcare.
• Trained local medical professionals in modern healthcare techniques to carry on after the ship's departure.
• Delivered more than US$1.7 million of medical equipment, hospital supplies and medicines.
• Completed more than 140 construction and agriculture projects including schools, clinics, orphanages and water wells.
Ports Visited by the Caribbean
The Caribbean Mercy visited a total of 137 ports in her 12-year history and conducted 56 field assignments in 13 nations: Dominican Republic, Haiti, Nicaragua, Guatemala,
El Salvador, Russia, Korea, China, Philippines, Colombia, Puerto Rico, Honduras and Belize.
During her first 42 years,
the ship only
travelled within Norway
During her 12 years
of service as a Mercy Ship,
she visited 18 countries.
In 2006 she was sold
to a family foundation
to be renovated.
Caribbean Mercy Specifications
Main Engines
1 MAK diesel (3,670 BHP)
Built by
1952 Aalborg, Denmark
Surveyed by
Det Norske Veritas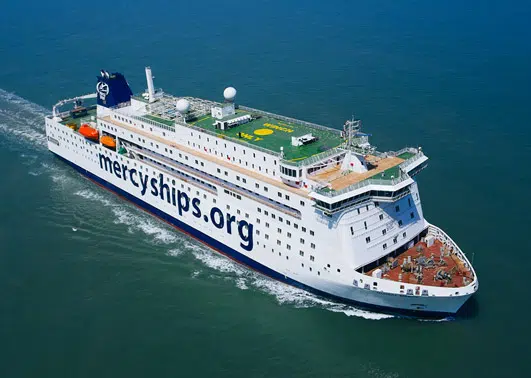 With more than 50 years of service ahead of it, this new ship will give a whole new generation the means to get involved with us!