Mercy Ships Announces the Global Mercy, World's Largest NGO Hospital Ship
According to the Lancet Global Surgery 2030 Report, an estimated 16.9 million people die yearly due to lack of access to surgical care. Over 93 percent of the population of sub-Saharan Africa does not have access to safe and timely surgery.
Our first purpose-built hospital ship is more than a just hospital, she is a transportable community of 600+ volunteers who will double our ability to save and transform lives
The global surgical backlog exasperated by COVID-19 threatens the stability of already fragile healthcare systems the need to provide basic life-saving care is greater than ever, especially in low-to-middle-income countries.
The Global Mercy is a transportable safe surgical environment providing sub-Saharan Africa with help and resources from some of the most well-trained physicians in the world. Over the vessel's 50-year expected lifespan, it is estimated that more than 150,000 lives will be changed onboard through surgery alone.
The hospital on board the 174-metre, 37,000 gross-ton vessel covers most of decks 3 and 4 on the Global Mercy – approximately 7,000 square metres.
Similar in size to a small regional hospital, it includes containing 6 operating theatres, 102 acute care beds and an additional 90 self-care beds., as well as supply and auxiliary services.
The intensive care unit including 7 ICU/isolation beds was paid for by $1million raised by the people of New Zealand.
The Global Mercy joins the Africa Mercy, more than doubling the impact of volunteers and services provided by the charity.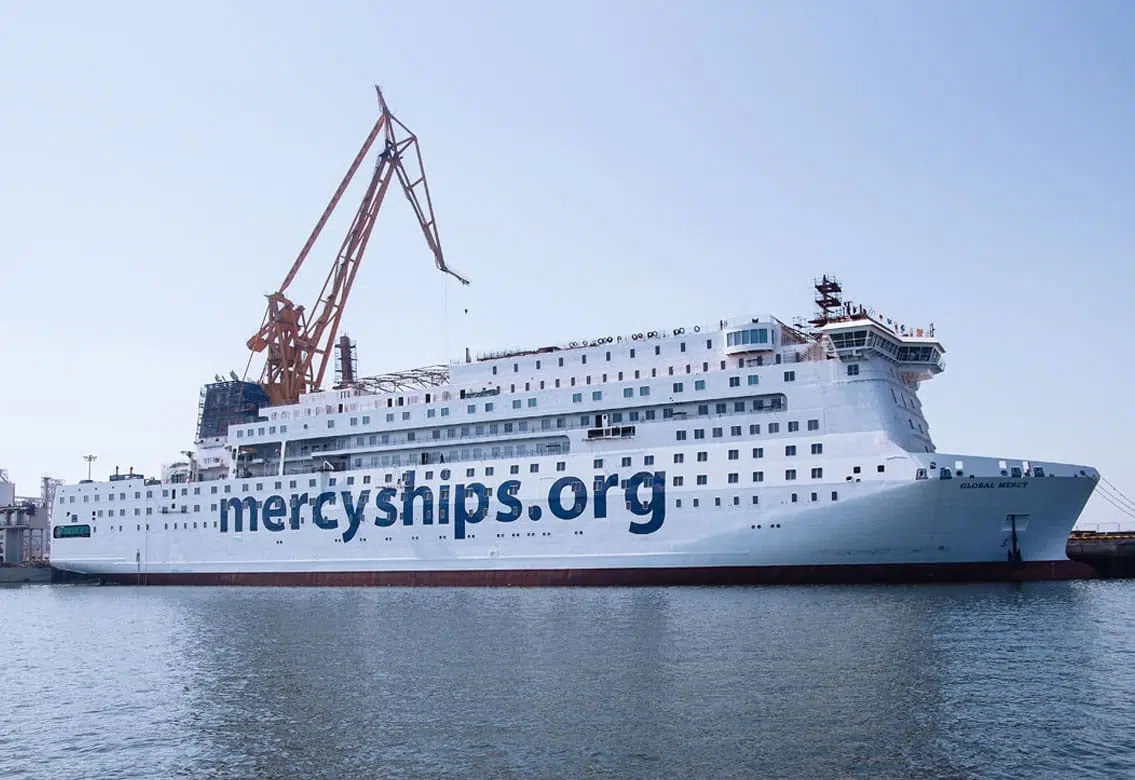 Global Mercy specifications
Filtering & treating AC
condensate water for
technical use will
reduce potable water
use by approximately
50%
Ship systems provide
reliable and efficient
power, clean water,
and air conditioning
for the hospital
and crew.
High efficiency air
conditioning systems
reduce total energy
consumption by
approximately 15%.
 Main Engines
4 x Warsila 6L32
with 2 x ABB Azipods
Project management
Stena RoRo – Gothenburg, Sweden
Construction design
Deltamarin – Turku, Finland
Built by
Xingang Shipyard (CSSC) – Tijanjin, China
Surveyed by
Lloyd's Register – UK
Brokerage
BRS – Geneva, Switzerland
Global Mercy specifications
Global Mercy hospital statistics
Download more about the largest civilian hospital ship in the world.
DOWNLOAD PDF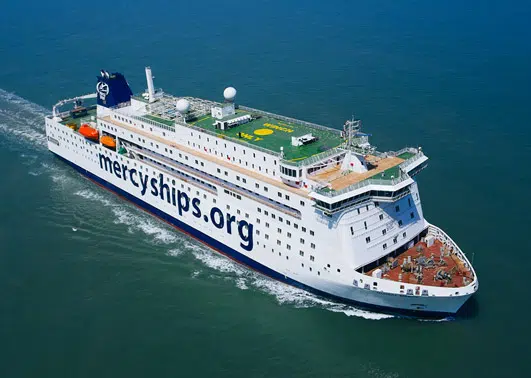 With more than 50 years of service ahead of it, this new ship will give a whole new generation the means to get involved with us!