The Island Mercy; our hospital ship in the Pacific
1983 – 2001
This hospital ship traveled the Caribbean, Central and South America for 11 years as the Good Samaritan. During that decade, it carried cargo and people to the Pan American Games for theU.S. Olympic Committee in 1991, and became the first ship to officially sail between the United States and Cuba in 30 years. In 1994, the ship underwent a major renovation including the addition of operating rooms. The hospital ship was renamed the Island Mercy.
The Island Mercy was renamed and redeployed to serve the islands of the South Pacific, based in New Zealand.
This hospital ship was the smallest to serve in the Mercy Ships fleet, replaced by the larger Caribbean Mercy with more capacity to provide medical services. The Island Mercy was part of the Mercy Ships fleet until 2001 when it was gifted to another charity.
During her first 42 years,
the ship only
travelled within Norway
During her 12 years
of service as a Mercy Ship,
she visited 18 countries.
In 2006 she was sold
to a family foundation
to be renovated.
Caribbean Mercy Specifications
Accommodation Capacity
80 people
Sailing Period
1983 – 2001
Main Engines
2 Crossley Diesels (820kW each)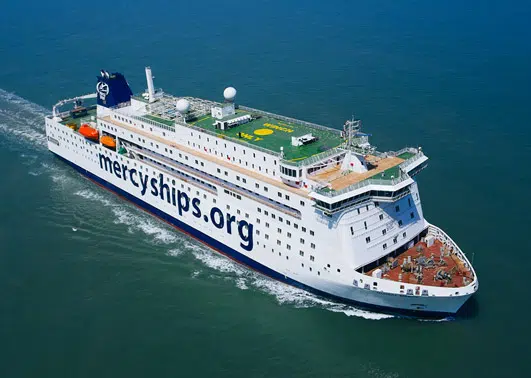 With more than 50 years of service ahead of it, this new ship will give a whole new generation the means to get involved with us!