Our humanitarian mission in Africa
Mercy Ships deploys hospital ships to low-income countries – improving the quality of life for people living with the multi-dimensional impact of poverty, disfigurement, and disability.
Our volunteers achieve this through direct medical services to individuals in need, and by helping local partners and agencies build their health care system's capacity to meet immediate and future demands.
Decrease avoidable suffering
Across the globe, 5/7 people lack access to safe and affordable surgery when they need it.
Every day in sub-Saharan Africa, children and adults in some of the poorest communities die from causes that can easily be treated in hospitals in nations like New Zealand. 1 in 8 children will die before they have the chance to go to school.
Increase medical capacity
Mercy Ships creates a lasting impact where healthcare infrastructure is limited or nonexistent, or there's a critical shortage of trained healthcare providers.
Our volunteers work alongside local partners to strengthen the host nation's health care systems, in collaboration and in response to expressed local needs.
Training, mentoring, tools and infrastructure are provided to equip local health care professionals before, during and after a hospital ship's visit, to make timely, safe and affordable care a reality.
Our commitment is to see healing continue long after the hospital ships depart.
Mercy Ships enters a five-year commitment with every country we visit, working closely with each government and ministry of health to deliver real, lasting change where it is needed most.
To help overcome injustice and inequity in health, Mercy Ships assessment provides key health care information often unavailable within the host nation.  Impact evaluation provides data resources for the host nation to build their future health care plan.
50% of the world's population lives within 160km of the ocean. Hospital ships are a logical, efficient solution to transport state-of-the-art surgical care to countries lacking medics, clean water, electricity, and surgical facilities.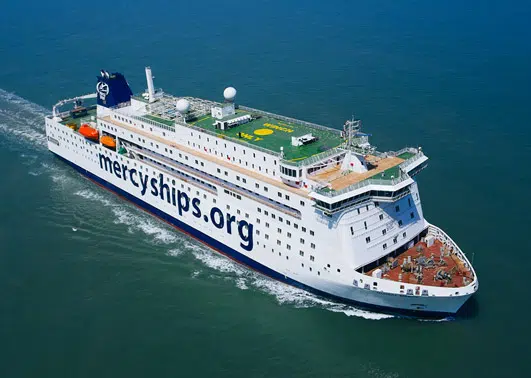 With more than 50 years of service ahead of it, this new ship will give a whole new generation the means to get involved with us!
Acquired in 1999 through a donation and commissioned in 2007, the Africa Mercy has five operating rooms and an 82-bed ward.
Countries our hospital ships have served in Africa

"Five billion people in the world live without access to safe, timely, affordable surgery. Our family is proud to be part of an organisation working to change the global surgery crisis by transforming lives and extending dignity to thousands of people in great need."
Dr Gary Parker - Surgeon, Chief Medical Officer